Release Notes - 13.55
Known Issues
Below are the known issues when version 13.55 Lite was released.
Agilent's ADS2011: Agilent's ADS2011 was released too recently to incorporate changes to the ADS software into Sonnet's Agilent ADS Interface, so this release (13.55 Lite) is not compatible with ADS2011. This release is compatible with ADS2009 Update1 and earlier versions of ADS. Compatibility with ADS2011 will be included in a future release.
Bug Fixes for Release 13.55 Lite
The following is a list of the known bugs in release 13.51 Lite which were fixed in the 13.55 Lite release.
Physical size of component is displayed incorrectly in Project Editor
In the project editor, the physical size of the component is displayed as a gray box, as shown below. The gray box is displayed with an incorrect orientation when the component is connecting diagonal feed lines.
Note that the physical size is only for display and does not affect the analysis of your circuit.
Pictured below is a component whose length is 22 mils and whose width is 10 mils. When used with orthogonal feedlines, the component is oriented correctly with the length along the x axis. However, when the same length and width are used for a component connecting diagonal feed lines, the gray box representing the physical size is not displayed as expected, with the length being extended between the two feedline.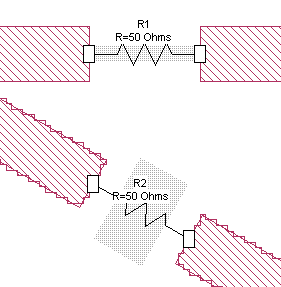 The bug has been fixed in release 13.55 Lite and the appearance of the physical component placement in your circuit is now correct as shown below.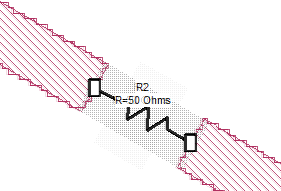 KBref - TT#8287
Ideal component is difficult to select in the Project Editor
After you have moved the port of an ideal component in your circuit, it becomes difficult to select the component. There was a known bug in the project editor that caused the focal point for selection of the component to be placed incorrectly. This bug has been fixed in release 13.55 Lite and no problem occurs when the ports of a component are moved.
KBref - TT#8326
Solver Information dialog box in AWR Microwave Office Interface does not update correctly when switching tabs
In the AWR Microwave Office Interface, when switching between tabs in the Solver Information dialog box, the dialog box is incorrectly updated, displaying a mixture of information from the tabs. This bug has been fixed in release 13.55 Lite and the correct information is displayed when you select a tab.