Sonnet Lite

FREE 3D Planar High-Frequency Electromagnetic Software
New version (18.53) is now available. This version has many new features and expanded capabilities. For Sonnet Lite Plus users, this free version includes all Plus features.
Sonnet Lite™ is a free feature-limited version of Sonnet's professional Sonnet Suites, which provides EM analysis to thousands of companies across the globe. Many major manufacturers of high-frequency components and boards depend on Sonnet to analyze their predominantly planar high-frequency designs from 1 MHz through several THz.
Download it right now - it's FREE!
Sonnet Lite provides a full-wave EM solution for 3D planar circuits such as this reduced-size edge-coupled microstrip bandpass filter with Ideal Surface Mount Capacitors: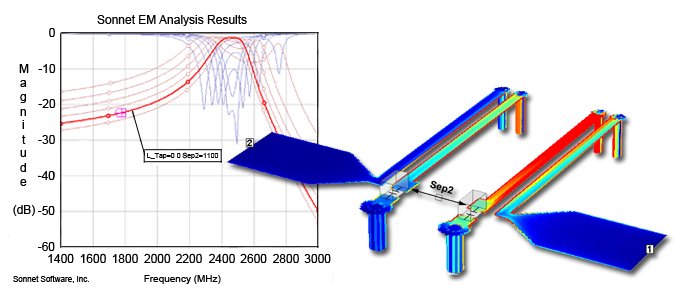 You can also use Sonnet Lite to analyze planar structures such as:
Microstrip matching networks
Lossy spiral inductors with bridges
Via (inter-layer or grounded)
Coupled transmission line analysis
Microwave circuit discontinuities
Broadside-coupled transmission lines
Planar interconnects
Microstrip or stripline filters
MIM capacitors
Mounting pad characterization
PCB trace crosstalk analysis
Planar couplers/splitters
Package resonances
Any arbitrarily shaped metal pattern!
Key Benefits of Sonnet Lite
Most accurate, reliable planar EM software in the world
Now with 64 MB of memory
View any Sonnet v18 or earlier project
Easy to learn with clear tutorials and online help
Fast and efficient
It's free!
Learn More