Why Sonnet?

Why Sonnet? 3D Planar EM Analysis
At Sonnet, we provide a full line of Electromagnetic (EM) EDA software products optimal for high-frequency analysis. See the matrix below for the best fit to your applications.
No single product can adequately address the full range of high-frequency EM analysis challenges. However, most structures in the realm of high-frequency design fall into the categories of either Planar or Fully 3-Dimensional. We're pleased to offer the Sonnet Suites of 3D Planar EM analysis tools for designs involving predominantly planar (but not necessarily strictly planar) structures.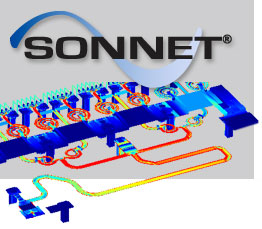 For Analysis of:
Arbitrary microstrip & stripline circuits
Planar spiral inductors
RFIC & MMIC circuits
Planar filter analysis
High density interconnects
Multi-layer circuits like LTCC and PCB technology
Microwave circuit discontinuities
Planar (patch) antennas
Learn more about Sonnet® Suites™
High Accuracy
Sonnet is synonymous with Accuracy for high frequency 3D planar EM analysis. Using the Shielded Domain Method of Moments technique, Sonnet consistently provides model extraction error on the order of 1% or less, and is the only high frequency EM tool capable of consistent, reproducible error of under 0.1% for precise design challenges. For over 20 years, Sonnet has been dominant in high-accuracy analysis of planar circuits and interconnects in RFIC, MMIC and high density packaging applications from KHz through THz frequencies.
Stands Alone or in your Design Flow
Learning to use electromagnetic model extraction tools can be difficult. Sonnet removes confusion through an intuitive design, clear tutorials, a quick-start guide to give you step-by-step feedback in model creation, and on-line help that actually helps. In addition, Sonnet Lite is a no-cost path to fast learning and applying EM analysis to small EM problems.
However, we know it is often essential to work within the high frequency design flow in which you are invested, without forcing you to use restrictive proprietary environments. Sonnet provides seamless, error-free interfaces to work within major high frequency CAE design frameworks such as:

• Cadence® Virtuoso®
• Agilent EEsof EDA's Advanced Design System (ADS)*
• Applied Wave Research's Microwave Office® (MWO)

Sonnet gives you the freedom to work the way you want, while minimizing translation errors between the tools. Whichever EDA framework you use, we'll be there.

*A GENESYS™ Suite interface for Sonnet is available from Agilent EEsof EDA
Advanced EM Port Technologies
One of the biggest challenges in measuring real circuits is getting the signal into and out of the device while removing the discontinuity of the transition, connector or measurement probes. Similarly, high frequency EM software uses ports to apply signal to the circuit, or read the signal levels from the circuit. Ports "embed" non-physical discontinuities into simulation results, which must be de-embedded out of the results, or they will add significant error to
your extraction model.
Sonnet's port calibration techniques are the most accurate in the industry, providing reliable S-parameter dynamic ranges that meet or exceed 100dB. (Imagine your network analyzer with
such dynamic range!) Our unique Co-Calibrated™ Internal Ports introduce perfectly calibrated connections for interior circuit connections so that models may be connected in your favorite
frequency or time domain circuit simulator. For instance, Co-calibrated Ports can be used for calibrated internal connections for later attachment of a non-linear transistor model.
Sonnet enables powerful new circuit optimization techniques based on using these internal connections to attach many small series and shunt tuning elements in the framework schematic
simulator. Use EM analysis for 98% of the circuit, and optimize the schematic tuning elements between the ports using speedy circuit theory simulation. Harness EM accuracy with schematic simulation speed.
Extraction Models for Time and Frequency Domain
Sonnet extracts electrical models suitable for use in leading frequency and time domain circuit theory simulators. Extraction Models from Sonnet include:

• S, Y and Z-parameter models in Touchstone and Cadence formats.
• PI-network Spice model extraction – Extracts equivalent circuit models fitting a PI-model between each pair of circuit ports, including mutual inductances (k factor). This is useful for small circuits and circuits where a PI-model is appropriate.
• Broadband Spice network model extraction – Extracts a single Spice model to match EM project behavior over the full simulation band. No limit on circuit size or configuration.
• Transmission Coupling Matrix models – Extracts a TLINE RLGC matrix for N coupled parallel transmission lines which can be used in the Cadence® Spectre® simulator.
Effective Desktop Parallel Processing
Current x86 processor technology is built around multiple computing cores on the same CPU. If they are efficiently applied to a numerically intensive analysis, each of these cores can function like a separate 64-bit parallel processor. Harnessing these cores in parallel can produce processing gains that scale nearly linearly with the number of available cores.
Sonnet recognizes these processor technology advances, and has developed EM analysis engines to efficiently harness the power of parallel processing on multiple CPU cores. One frequency point is computed at a time, with the solution matrix distributed across the various processor cores in independent processes called "computing threads." When completed, the results of each thread are quickly and efficiently combined, yielding nearly N-fold simulation time reduction for N cores.
For time-critical design cycles, combine our High Performance Solver engine with our emCluster® distributed computing solution to harness multiple computers for parallel frequency solutions to reduce very large simulations from hours to minutes.
Efficient Modeling of Thick Conductors
Sonnet provides automatic meshing of circuit geometries, with special attention to potential problem spots in your circuits. No adaptive meshing is needed; our meshing algorithms have been carefully tuned to recognize important circuit features that require higher meshing densities. Edge meshing of transmission lines to capture the "edge current" effect is critical to accurate results, and is automatic in Sonnet. A multi-sheet thick conductor model is used to properly capture field and current penetration into conductors when the skin depth becomes comparable to metal thickness—crucial for accurate Q calculation of spiral inductors on silicon.
With our patented Conformal Meshing technology, Sonnet makes easy work of curved geometries and off-grid circuit elements with builtin edge current consideration for high accuracy models. Conformal Meshing requires a small fraction of the memory and time required of rectangular and triangular meshing techniques, and does not resort to error-prone itervative or sparse matrix techniques.
Fast Data Sweeps with Adaptive Band Synthesis (ABS)
With Sonnet's unique Adaptive Band Synthesis (ABS) technique, you achieve detailed simulation results in a small fraction of the time required by point-by-point EM simulation. You define the band of interest and Sonnet's ABS generates a fine resolution response over the entire band with the shortest simulation time possible. ABS adaptively selects the smallest number of discrete EM simulation samples possible, and provides a detailed broadband S-, Y- or Z-parameter data sweep. Overall simulation time is cut dramatically and fine spectral behavior is revealed with no reduction in accuracy! ABS is reliable and stable for bandwidths exceeding 100x.
Sonnet Components: Surface Mount Devices in EM Analysis
Components are electrical model objects that can be embedded into your EM projects. Leveraging our new Co-calibrated™ Port technology, Components can be ideal lumped elements, surface mount device (SMD) vendor models, or device measurements for transistors, amplifiers, discretes and more. Components take the guess work out of SMD pad and terminal parasitic effects. Competing fast sweep methods require 40% or more discrete frequency samples in order to sweep the same frequency range. Sonnet saves you precious time.